Whilst the top sports stars are renowned for their efforts on the field, court, in the ring or wherever their professions take place, many branch out into other avenues especially once their athletic career is coming to an end. You may have seen some sports stars getting into music, some become pundits, but many have become even more famous for their cameos in blockbuster movies and hit TV shows.
Today, we're here to look at five of the most iconic moments where sports stars have appeared on the big screen, or even on tinier screens. Some were great, others may be a bit cringe-worthy, but, either way, they are all iconic for their own reasons. So let's take a look at what makes our list.
Top 5 Sports Stars in Movies and TV Shows
5: Dwayne 'The Rock' Johnson – The Mummy Returns
Listing The Rock is almost cheating – the man is surely more actor than an athlete at this point. But way back in 2001, he was just a humble internationally famous pro wrestler dipping his toes in Hollywood's waters. 
The Rock played one of the villains in The Mummy Returns, The Scorpion King – in a role apparently so great it needed a spin-off prequel movie with the same title a year later. 
Nowadays, Dwayne Johnson's filmography is big enough to warrant a separate Wikipedia article, and his wrestling career is a thing of the past. With appearances in Fast and Furious, Moana, G.I. Joe, Jumanji, and so much more it's fair to say he's a household name. Looking back at his acting debut in The Mummy Returns, and the quality of the CGI used, you may well be wondering how he ever managed it. 
Here is the famous scene where his new acting career began:
4: Mike Tyson – How I Met Your Mother
Mike Tyson is a fairly controversial figure. The world champion boxer has a storied past, but he's chilled out a lot in his older age. He's taken on some pretty interesting cameos in his time, but the best is probably his appearance in the season 8 episode, 'Bad Crazy.' 
Iron Mike helps Robin overcome her fear of holding Marshall and Lily's baby – offering some gentle advice and an impromptu trip to a strip club. Gotta keep those babies warm, after all. This is far from Tyson's only onscreen appearance – he's been in two Hangover movies, two Scary Movie sequels, Ip Man 3, and Rocky Balboa. 
As you can probably tell from that list, Mike isn't that fussy about how he's perceived these days – a good mix of silly and serious in that list.
3: Tom Brady – Ted 2
Ted 2 sees the movie's titular bear on the hunt for the perfect sperm donor, and in a project driven by Seth McFarlane, nobody could be more perfect than Tom Brady. Luckily he's already buddies with the movie's other star, Mark Wahlberg – so it was easy to make the call to get him involved. 
Brady was initially unimpressed by the Ted concept, but that didn't seem to stop him from going all in on his cameo appearance. It's a genuinely funny moment from an athlete who's refusing to take himself too seriously. 
As an aside, Tom Brady's bodily fluids seem to be in pretty high demand. The South Park episode 'Turd Burglars' saw the entire town trying to get their hands on his faecal matter in order to have the healthiest gut microbiomes.
Check out his part in the movie right below:
2: Shaquille O'Neal in… basically anything that would pay him
Oh, Shaq. Is there anything you won't do? Over seven feet tall and one of the greatest basketball players of all time, Shaq currently enjoys a position as a sports analyst on Inside the NBA, but before that he played for six different teams over a glittering nineteen-year career. 
If we had to pick a specific TV cameo highlight, it would definitely be his appearance in Jackass, which sees him teaming up with Wee Man for an unexpected combination. Shaq is on this list purely because it would have been impossible not to include him with his staggering media presence. Shaq is part of the fabric of reality.
But just in case you'd like some more Shaq facts, we've hooked you up.
To date, Shaquille O'Neal has:
Released four rap albums and toured as a DJ
Appeared on the cover of nine different NBA games
Starred in his own video game
Got angry at Ashton Kutcher on Punk'd
Starred in his own reality show (two separate times!)
Promoted Reebok in South Korea
Advertised Nestle Crunch, Papa John's, Pepsi and many more
Appeared frequently in professional wrestling
Made questionable racist comments every now and then
1: Michael Jordan – Space Jam
As if anyone else could top this list – MJ starred in probably the most successful Looney Tunes movie of all time. If you were born in the nineties you probably remember him leading the Tune Squad to victory against the MonStars pretty well. 
As we've covered before, Michael Jordan is not just one of the greatest athletes of all time but an incredible businessman – and while that might not translate directly to acting chops, Space Jam is undoubtedly a nostalgic hit. While they might not have been able to recreate that magic in the sequel (definitely because MJ refused to return), we'll always have this little slice of animated movie genius.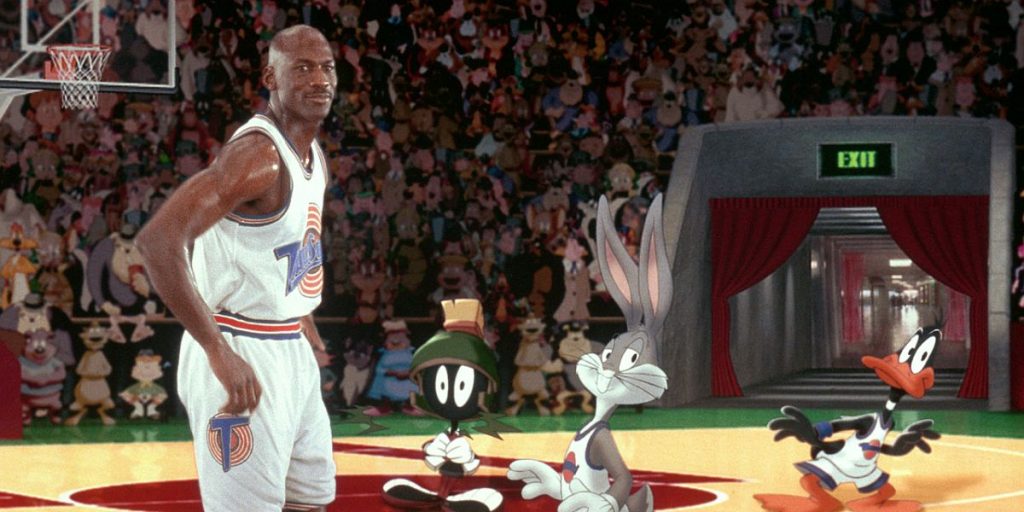 ---
Catch more posts like this in our General section.