Football has a long and illustrious history, and each year teams try and carve their names into the history books. The 21st June 2022, 15:00. The kick-off of the first game in the current Champions League campaign. La Fiorita of San Marino took on Inter Club d'Escaldes of Andorra in the first preliminary game of the qualifying rounds.
As of the 17th May 2023, we now know the two finalists who will be competing to be crowned the Kings of Europe. Inter Milan of Serie A and Manchester City of the Premier League will meet in Istanbul on the 10th of June 2023.
The last time the Turkish capital hosted the Champions League final of Europe's premier competition, also saw a Milan team and an English team appear. It was 2005 and the tale of one of the greatest comebacks in sporting history, as Liverpool came from 3-0 down to level the game in 90 minutes, before eventually winning the trophy for a fifth time on penalties.
But 2023 is time for a new story to be written in the tournament's history. Inter are looking to claim a fourth European Cup, their last coming in 2010. While City will be looking for their first piece of silverware, and a trophy their owners have been trying to win since they took the helm.
Some will argue that City winning the tournament will be the death of football, as they will become the first of the big "oil money" clubs to manage the feat. Others will argue that Chelsea was no different when they won their first Champions League and that City deserves to be there on merit, and that money has nothing to do with it. No matter what side of the fence you sit on though, that's a discussion for another day.
Before we take a look at the upcoming game and make our Champions League final predictions, let's take a look at how both teams got here.
Inter Milan's path to the 2023 Champions League final
Going into their Champions League group for the season, Inter were pitted with a tough group on paper alongside Bayern Munich, Barcelona and Plzen. It wasn't the easiest of groups for them, winning just three of their games, drawing one and losing two. Edging out Barcelona by three points to finish second in the group to Bayern.
Inter would then go on to face FC Porto in the Round of 16, taking a narrow 1-0 lead in the first leg at home, which was enough to see them through as they held out for a 0-0 draw on the road in the second leg.
It was Portuguese opposition again in the Quarter-final, as the Italians took on Benfica with the first leg on the road. They came away from Estadio do Sport Lisboa e Benfica with a 2-0 victory, but found it tough in the second leg as Benfica mounted a magnificent comeback where they pushed Inter all the way. The tie would eventually finish 3-3 though, meaning their goals from the first leg were enough to take them through.
The Semi-final was one many looked forward to, a Milan derby. AC vs Inter. With no real home advantage, since they share the San Siro, which will be getting torn down soon for a new stadium to be built. And once again they triumphed without conceding a single goal as they won the first leg 2-0 and shut AC out again in the second, with a 1-0 victory to confirm their place in Istanbul.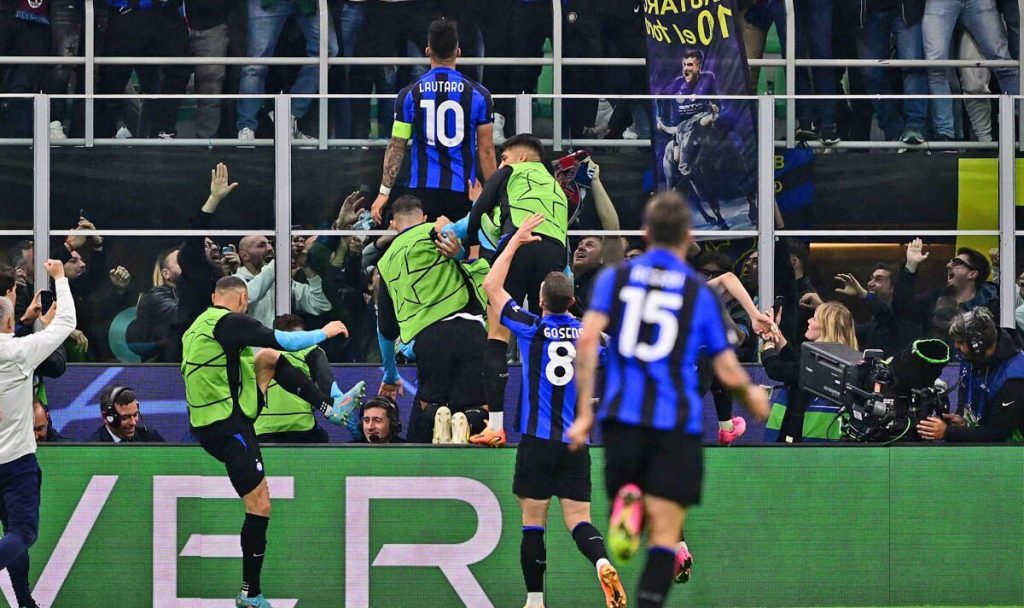 Manchester City's path to the 2023 Champions League final
Unlike Inter, City had a much easier time in their Champions League group, not losing a single game. In six games against Borussia Dortmund, Sevilla and FC Copenhagen, they managed to top the group with four wins and two draws, meaning a more favourable tie in the Round of 16.
First up for City on their road to Istanbul was RB Leipzig, however, it wasn't plain sailing as City failed to dominate as they usually do, only managing a 1-1 draw away to the Germans. However, it was like a whole different City team that turned up for the second leg, hammering Leipzig 7-0 at the Etihad back in March.
Next up was the reigning German champions, Bayern Munich, who had topped Inter Milan's group. This time round, City were not leaving anything to chance and got things started with a 3-0 victory at the Etihad before a 1-1 draw secured their place in the Semi-finals where they would go on to face defending European champions Real Madrid.
City started the first leg on the front foot, Haaland managing two shots on target in the first few minutes. But for all their pressure in the first 20-odd minutes of the game, a lapse in concentration at the back allowed Real a chance, and Vinicius Jr scored a scorcher of a goal to give Real the lead against the run of play. After that, City's confidence was knocked, and Real started to gain control, but Kevin De Bruyne guided a long-range effort into the net to level the game going into the second leg.
The second leg took place at the Etihad, and many were convinced that Real would once again make it to yet another Champions League final. It is a skill they have perfected over the years. But City started the game with energy, and it was too much for Real to handle. Bernado scored two goals in quick succession, and there was no reply from Real at all, who look void of any confidence before City completed their rout to win the game 4-0 and book their place in Istanbul.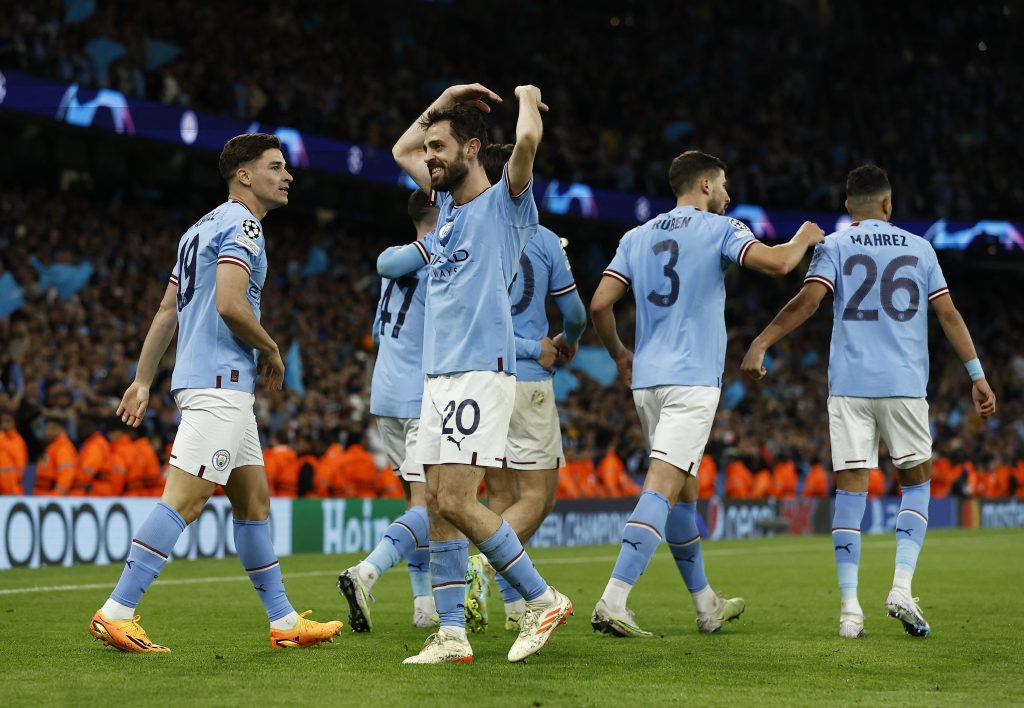 Statistics
Going into the 2023 Champions League final, there are some interesting statistics we think should be looked at. Showcasing the attacking prowess of City, and also the defensive capabilities of Inter.
City has scored more goals than any other team this season with 31.
City also has the highest passing accuracy of any team this season with 90.4%.
Inter have made more tackles than any other team with 169, 11 more than their rivals AC on 158.
Inter have recovered the most balls 461, with Citythird on 449.
Inter have made the joint most amount of saves in the competition (45) alongside Real Madrid.
Inter have the most clean sheets with 8, one more than City with 7.
Past meetings
The two teams have met twice before in the past, both were pre-season friendlies. The first game between the two came in August 2010, where Inter beat City 3-0. The following match came around 12 months later in July 2011, where City returned the favour and dished out their own 3-0 beating onto the Italians.
That currently leaves things at one win each, but the two teams meeting in the Champions League final are far off the sides who competed over a decade ago.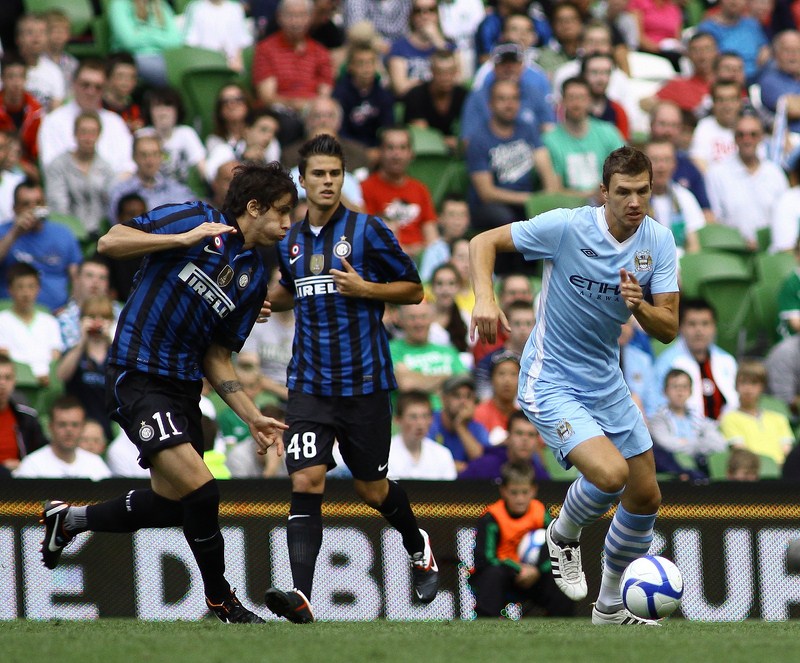 Champions League odds and predictions
As it stands, Manchester City are favourites to win the 2023 Champions League, ending a 12-year wait for manager Pep Guardiola. Bookies currently have them at odds of 1/5 with Inter at 10/3. However, the defensive prowess of this Inter team, as proved by many of the stats above, could prove a challenge for the free-scoring City.
If Inter is able to shut City out, they have the capability to score goals themselves. And there have been times this season when City have struggled to turn their dominance into results, albeit not that often. Plus for those who are superstitious, the former City striker Edin Dzeko who now plays in Milan could bring about the curse of playing against a former player for the Manchester club.
That said, personally, on paper, City does have the better team but the result may be a tougher one to call than many people think. Some people are already writing Inter off, with members of the media saying City have it in the bag, but this is a cup final, and both teams are there on merit (and a spot of oil money), so both teams have an equal chance.
That's why for our predictions, for those who fancy a flutter on the 2023 Champions League final, we're not going with a result-based bet. Instead, we're going with Haaland to get over 2.5 shots on target, De Bruyne over 0.5 shots on target, over 1 card in the match, and over 7 corners.
---
Why not let us know in the comments below how you think the 2023 Champions League final will unfold. And don't forget to check out our football section to keep up to date on the latest goings on.