The Grand National at Aintree is an annual spectacle that has captured the hearts and imaginations of horse racing enthusiasts around the world. With a rich history spanning over 180 years, this prestigious event boasts an unparalleled tradition, thrilling competition, and a unique atmosphere. In this article, we explore the various elements that make the Grand National at Aintree one of the biggest and best horse races globally.
History and tradition
The first Grand National race took place in 1839, and it has since evolved into an iconic event that draws millions of viewers and bettors annually. The race's prestigious history is one of the main reasons behind its enduring appeal. Over the years, the Grand National has produced countless unforgettable moments, with legendary horses such as Red Rum and Aldaniti etching their names into the annals of racing history.
Thrilling competition
One of the key factors that make the Grand National at Aintree so captivating is the exhilarating competition it offers. The race covers a challenging course of 4 miles and 2½ furlongs, featuring 30 daunting fences. This formidable test of stamina, speed, and jumping prowess attracts the finest steeplechasers from around the world, resulting in a thrilling spectacle for both spectators and bettors.
Moreover, the race's unpredictable nature adds to its allure. Unlike many other horse races, the Grand National's outcome is rarely a foregone conclusion. With a large field of 40 runners, the race often produces surprise winners and exciting upsets, making it all the more fascinating for horse racing enthusiasts.
Unique atmosphere
The atmosphere surrounding the Grand National at Aintree is unparalleled in the world of horse racing. The event is more than just a race – it's a social occasion that brings people from all walks of life together. With a crowd of over 70,000 attendees and millions of television viewers, the buzz and excitement generated by this iconic event are second to none.
The three-day festival leading up to the race adds to the overall spectacle, featuring live music, fashion shows, and a variety of other entertainment options. This festive atmosphere ensures that the Grand National is not only a must-see event for horse racing fans but also an unforgettable experience for anyone who attends.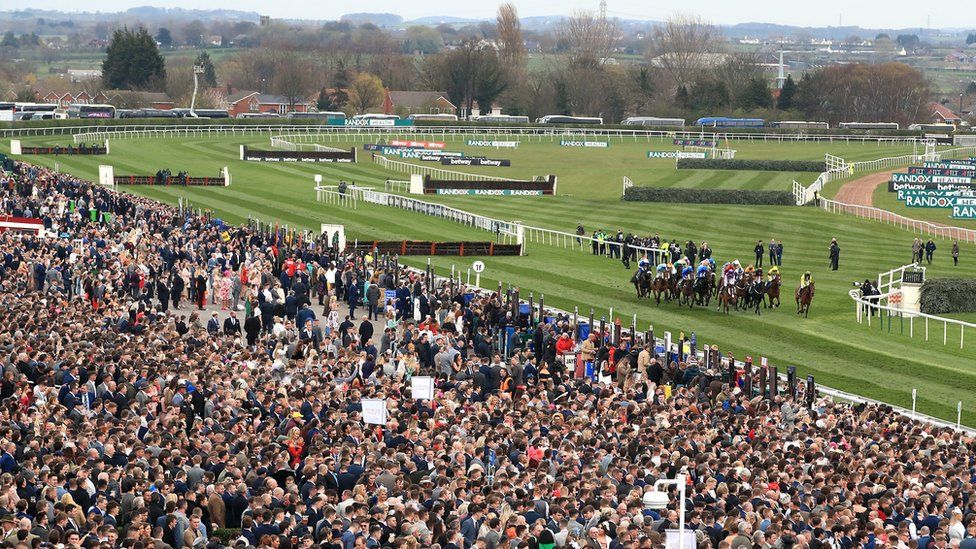 Economic impact
The Grand National at Aintree has a significant economic impact on both the local region and the broader UK economy. It is estimated that the event generates over £125 million in revenue each year, with visitors from around the world flocking to the area to take part in the festivities. This influx of tourists boosts local businesses, hotels, and restaurants, making the Grand National an essential contributor to the regional economy.
The race also plays a crucial role in the UK's betting industry, with an estimated £300 million wagered on the event each year. This makes the Grand National one of the biggest single-betting events worldwide, drawing both seasoned bettors and casual punters to try their luck on the race.
Global appeal
The Grand National at Aintree has a truly global appeal, with millions of fans tuning in from around the world to witness the spectacle. The race is broadcast in over 140 countries, and it is estimated that more than 600 million people watch the event each year. This worldwide audience is a testament to the race's universal appeal and its status as one of the most significant sporting events globally.
The 2023 Grand National runners and odds
So, this year's race takes place tomorrow, Saturday 15th April. And the runners for the big race have finally been announced, so here are the runners and the odds for this year's racers:
| Horse | Trainer | Jockey | Odds |
| --- | --- | --- | --- |
| Corach Rambler | Lucinda Russell | Derek Fox | 8/1 |
| Delta Work | Gordon Elliott | Keith Donoghue | 8/1 |
| Noble Yeats | Emmet Mullins | Sean Bowen | 8/1 |
| Gaillard Du Mesnil | Willie Mullins | Paul Townend | 11/1 |
| Ain't That A Shame | Henry De Bromhead | Rachael Blackmore | 12/1 |
| Mr Incredible | Willie Mullins | Brian Hayes | 12/1 |
| Le Milos | Dan Skelton | Harry Skelton | 14/1 |
| Longhouse Poet | Martin Brassil | JJ Slevin | 14/1 |
| Any Second Now | Ted Walsh | Mark Walsh | 16/1 |
| Capodanno | Willie Mullins | Danny Mullins | 16/1 |
| The Big Dog | Peter Fahey | Aidan Coleman | 16/1 |
| Galvin | Gordon Elliott | Davy Russell | 20/1 |
| Vanillier | Gavin Cromwell | Sean Flanagan | 20/1 |
| Our Power | Sam Thomas | Sam Twiston-Davies | 22/1 |
| Fury Road | Gordon Elliott | Jonjo O'Neill Jr | 25/1 |
| Lifetime Ambition | Mrs John Harrington | Sean O'Keeffe | 28/1 |
| Roi Mage | Patrick Griffin | Felix de Giles | 28/1 |
| Back On The Lash | Martin Keighley | Adam Wedge | 33/1 |
| Coko Beach | Gordon Elliott | Harry Cobden | 33/1 |
| The Big Breakaway | Joe Tizzard | Brendan Powell | 33/1 |
| Velvet Elvis | Thomas Gibney | Darragh O'Keeffe | 33/1 |
| Carefully Selected | Willie Mullins | Michael O'Sullivan | 40/1 |
| Dunboyne | Gordon Elliott | Jack Tudor | 40/1 |
| Mister Coffey | Nicky Henderson | Nico de Boinville | 40/1 |
| Eva's Oskar | Tim Vaughan | Alan Johns | 50/1 |
| Fortescue | Henry Daly | Hugh Nugent | 50/1 |
| Gabbys Cross | Henry De Bromhead | Peter Carberry | 50/1 |
| Minella Trump | Donald McCain | Theo Gillard | 50/1 |
| Cloudy Glen | Venetia Williams | Charlie Deutsch | 50/1 |
| Born By The Sea | John Gilligan | Phillip Enright | 50/1 |
| Darasso | J P O'Brien | Luke Dempsey | 66/1 |
| Recite A Prayer | Willie Mullins | Jack Foley | 66/1 |
| Sam Brown | Anthony Honeyball | Jonathan Burke | 66/1 |
| Hill Sixteen | Sandy Thomson | Ryan Mania | 80/1 |
| Diol Ker | Noel Meade | Kieren Buckley | 80/1 |
| Enjoy D'allen | Ciaran Murphy | Simon Torrens | 80/1 |
| Escaria Ten | Gordon Elliott | Adrian Heskin | 100/1 |
| A Wave Of The Sea | Joseph O'Brien | Shane Fitzgerald | 100/1 |
| Cape Gentleman | John Joseph Hanlon | Jody McGarvey | 100/1 |
| Francky Du Berlais | Peter Bowen | Ben Jones | 100/1 |
Our picks
Now, anyone who bets on the Grand National knows this is a race that anyone can win, with many big odds horses having crossed the line in first place over the years. So here are some of our top picks:
Noble Yeats – 8/1
Noble Yeats has emerged as one of the top favourites in this year's Grand National, and it's not hard to see why. As the reigning champion from last year's race, he has already proven his ability to perform at the highest level in this challenging competition.
Despite carrying an additional 19lb this year, Noble Yeats has maintained his status as a serious contender, as evidenced by his impressive 15-length fourth-place finish in the prestigious Cheltenham Gold Cup. This strong performance showcases his stamina and resilience, ensuring that he remains firmly in the reckoning for the Grand National's top honours.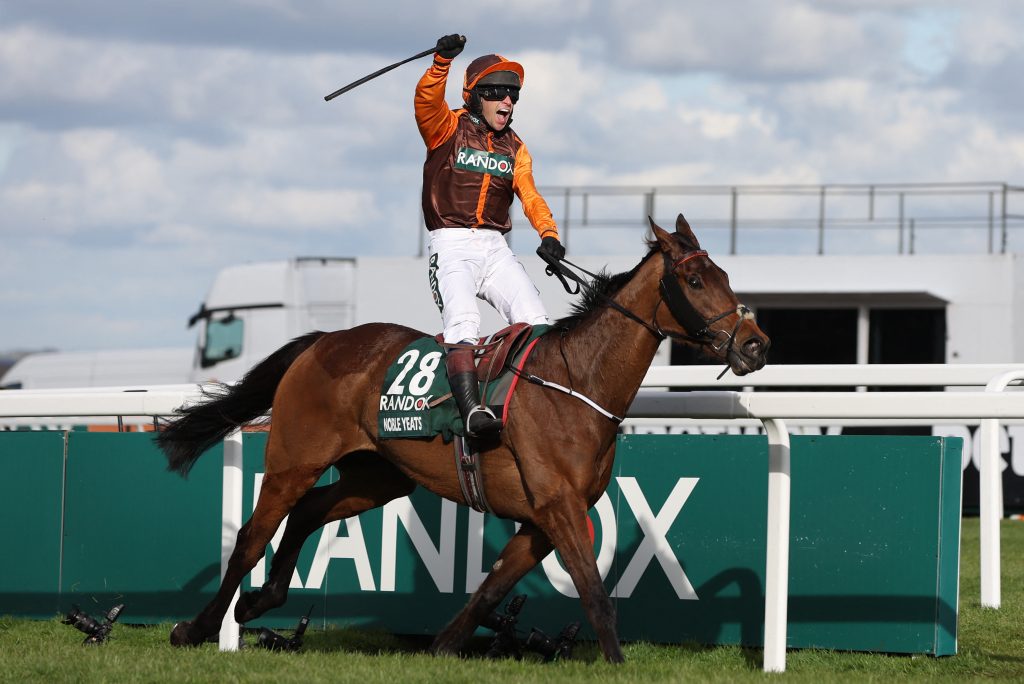 Ain't That a Shame – 12/1
Ain't That a Shame has quickly become one of the favourites for this year's Grand National, thanks to a combination of factors that make it an intriguing contender. Showcasing consistent progress in Ireland, this horse is known for its scopey and long-striding style, which makes it an ideal candidate for the demanding distance of the Grand National.
As a fascinating prospect, Ain't That a Shame has attracted significant attention, with odds initially set at 20/1. However, as more people begin to recognise its potential and back the horse, the odds have been steadily dropping, solidifying its status as a serious favourite in this year's race.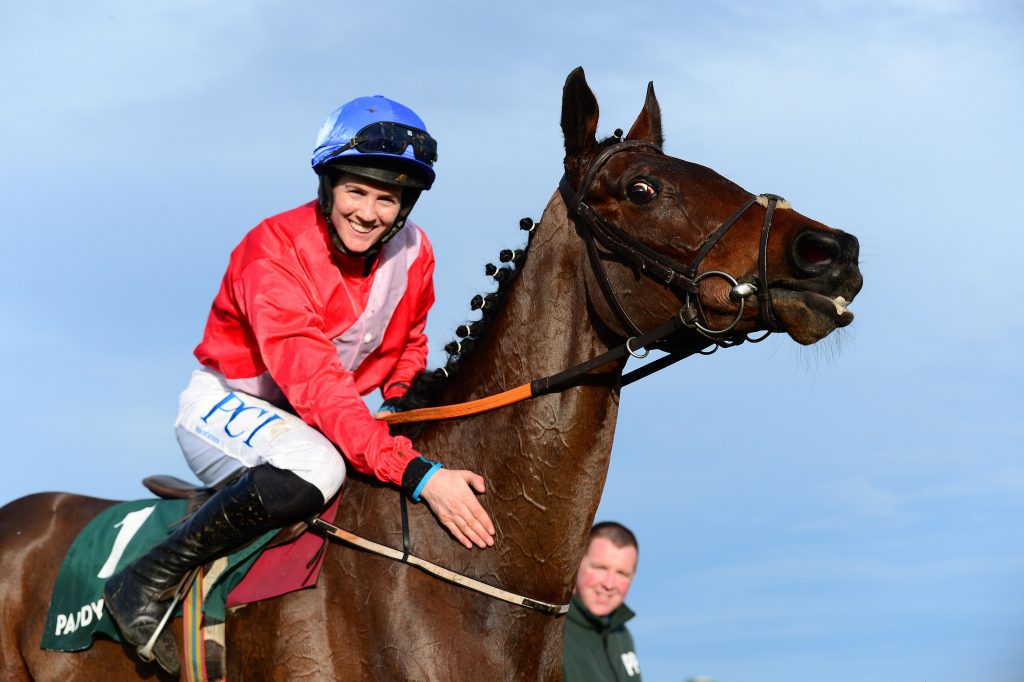 The Big Dog – 16/1
The Big Dog has captured the attention of many as one of the favourites in this year's Grand National, and his strong performances provide a clear rationale. His noteworthy third-place finish in the Welsh National is a testament to his capabilities in competitive racing events.
While The Big Dog has experienced some jumping issues in the past, including during a remarkable run in the Irish Gold Cup, his overall talent and potential cannot be denied. With his demonstrated ability to compete at a high level, The Big Dog remains a compelling contender for the top spot in this year's Grand National.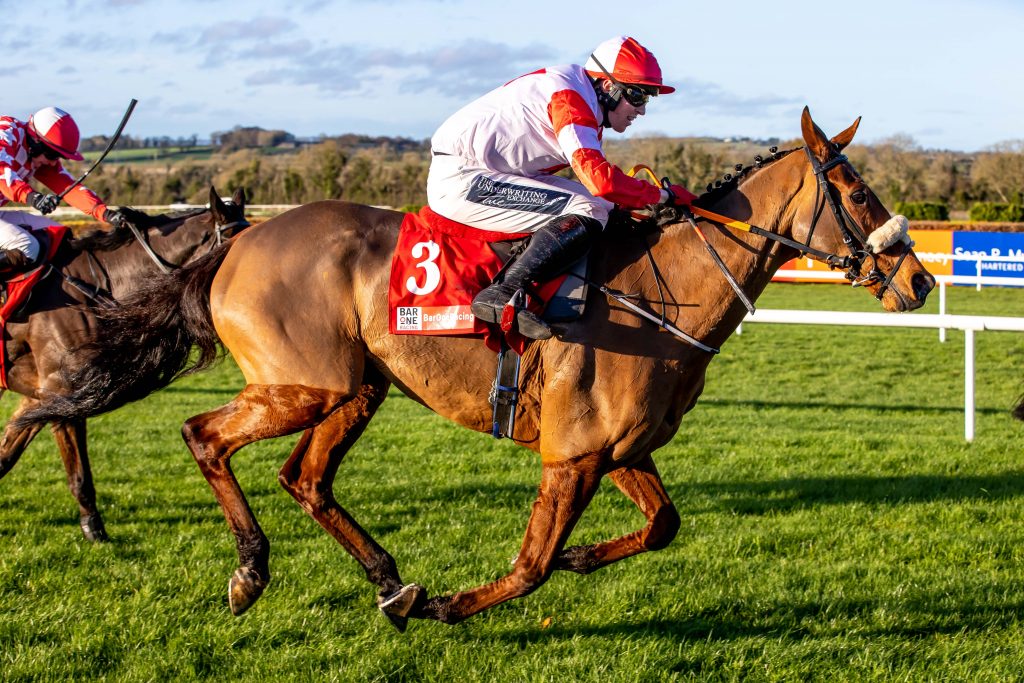 Conclusion
The Grand National at Aintree is, without a doubt, one of the biggest and best horse races in the world. Its rich history, thrilling competition, unique atmosphere, significant economic impact, and global appeal make it a must-see event for
horse racing aficionados and casual spectators alike. Year after year, the race continues to captivate audiences, providing unforgettable memories and inspiring new generations of horse racing enthusiasts.
The combination of tradition, excitement, and unpredictability ensures that the Grand National remains a beloved fixture in the global sporting calendar. As the race continues to evolve and adapt to modern times, its enduring appeal is a testament to the passion, dedication, and spirit that define the world of horse racing.
Whether you are a seasoned fan or a newcomer to the sport, the Grand National at Aintree offers a thrilling experience that will leave you in awe of the skill and determination of both the horses and their jockeys. So, mark your calendars and join the millions of fans who eagerly await the next edition of this iconic race this weekend – a true celebration of horse racing excellence.
---
Check out more content like this in our Sports section.